Your bathroom is an essential part of your home. But bathrooms can sometimes be overlooked when it comes to comfort and design. Remodeling your bathroom can turn this essential room into a peaceful oasis within your home. Read on to discover our tips for a successful and beautiful bathroom remodel.
1. Create a Budget
Before you start dreaming about your new bathroom, consider how much you want to invest. Despite being one of the smaller spaces in your home, bathroom renovation costs can get out of hand if you don't create a budget. Whether you plan to sell in a few years or stay in your home much longer, you'll want to plan out how much you want to spend, what you consider essential, and what luxuries you want to include.
2. Plan Your Layout
Once you have your budget planned, consider your bathroom layout. Do you want to stick with your existing layout or do you want to change it or expand it to create more space? Keep in mind that changing the layout of your bathroom will likely add to the cost. But if your original layout is too cramped, consult a professional contractor experienced in bathroom remodeling who can advise you on how to best utilize your space.
3. Consider Your Colors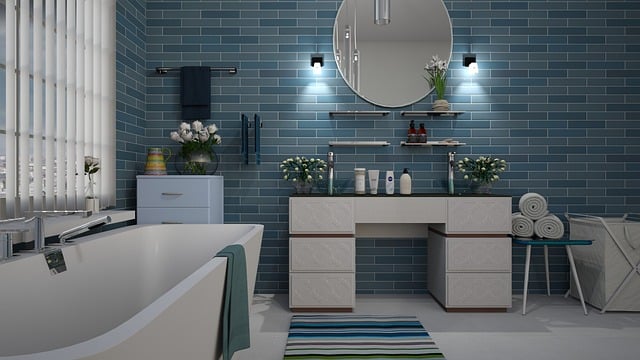 When remodeling your bathroom, you want to consider what colors you want to use. Dark colors typically make a room feel smaller but that doesn't mean you have to stick with white or off-white. Bathroom trends for 2023 see consumers choosing nature-inspired colors and textures. Choosing the right colors for your bathroom remodel can help give your bathroom a soothing spa-like feel.
4. Choose the Right Lighting
You may want to consider a variety of lighting when remodeling your bathroom. Bright lighting is required for daily tasks like shaving and applying makeup, but softer lighting can create ambiance for a relaxing bath. A combination of recessed, pendant, or sconce lighting is the most desired. Including a dimmer switch can help change the mood for an evening bath, and adding a back-lit mirror will give you aesthetically pleasing and practical lighting for everyday use.
5. Add Touches of Luxury
When remodeling your bathroom, consider adding a few touches of luxury. Heated floors, heated towel drawers, and wall-mounted features like toilets, cabinets, and washbasins open up the floor space and give your bathroom a more open, contemporary feel. These small touches of luxury can make a big difference and may make it your favorite room in the house. 
6. Choose Quality Materials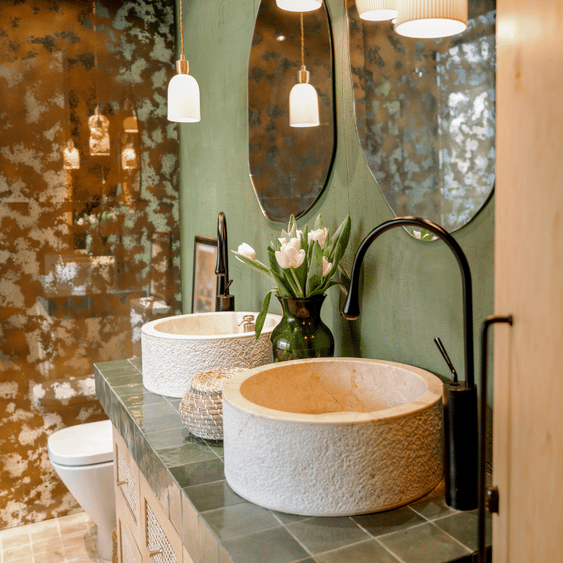 Your bathroom is likely one of the most used rooms in your home. You'll want to choose materials that can stand up to the test of time and hold up well with lots of daily use, temperature changes, humidity, and water exposure. Avoid cheap particle board cabinets that can swell when wet. Natural stone and ceramic tile are both durable and beautiful and will keep your bathroom looking new for years to come.
7. Create Space for Storage
One way to create more space in a small room like a bathroom is to build in, instead of out. Recessed medicine cabinets, toilet paper roll holders, and even lighting, takes up less space and can open up a small bathroom. Wall-mounted shelving and other fixtures creates floor space and niches for extra towels and toiletries.
8. Think of Accessibility
When you are remodeling a bathroom, that is the perfect time to think about accessibility. If you plan on staying in your home for years to come, you may want to consider including accessible options in your remodel either for yourself or a loved one who will be living with you or visiting.
Consider features such as grab bars, either installed during the remodel or including blocking behind the drywall to install later, a walk-in, curbless shower with a bench, accessible bathtub, wider doors, and slip-resistant tiles which are all smart additions to consider.
9. Include Proper Ventilation
With all the water usage in a bathroom, you will want to make sure you have enough ventilation. Without it, your bathroom can harbor mold growth and that can create problems, not just in your bathroom but with your health. A bathroom exhaust fan that has the capacity appropriate to the size of your bathroom can keep air moving and help dry up moisture after a shower or bath. But choose wisely as you don't want a noisy fan to disturb your relaxing bath!
10. Upgrade Your Shower
Are you a shower person or a bath person? Either way, there are lots of shower designs and styles that can make a huge difference in your shower experience. If you want to get away from the shower-tub combo, you can create a wet room or doorless shower that will give you a more open feel. You can even turn your shower into a steam room. With all the benefits that come from taking regular saunas and steam baths, it will be an investment in your health!
11. Bathtub or No Bathtub
First, you'll want to consider if you want to have a bathtub in the first place. This can depend on the available bathroom space or your personal preferences.
Then, depending on what your bathroom space can accommodate, decide on what style and type of tub you'd like. There are as many styles of bathtubs as there are showers, so consider what your space and budget can accommodate and choose a durable, quality, beautiful bathtub that will make your bathing experience feel like you have stepped into a spa!
12. Hire a Bathroom Remodeling Pro
When you are ready to start your bathroom remodel, consider hiring a pro.  While there are some tasks you can undertake yourself, trying to DIY everything is a common remodeling mistake. Many bathroom renovations require the expertise of a professional contractor. At Brunson Construction, we have been renovating bathrooms in the Dallas area for more than 50 years.Whether you want to install a soaking tub, retile your shower, upgrade your existing bath, or add a completely new bathroom, we can help.
Contact us today to get your FREE bathroom remodeling estimate and get one step closer to the bathroom of your dreams!