Built and designed well, a bathroom can be a place of relaxation and warmth. Nowadays especially, homeowners want to exude these traits while adding some personality and personal flair to the bathroom design. If you're looking for some inspiration or ideas on how to upgrade your bathroom this year, look no further.
Here are 10 of the top bathroom trends to watch out for and maybe even try in 2023.
1. Backlit Mirrors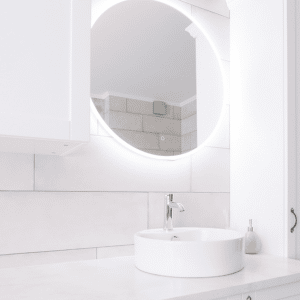 This year, consider adding a mirror with built-in lighting behind it to create a chic, well-lit area. It's like a large, built-in ring light. These mirrors are aesthetically pleasing and practical plus they come in many different shapes, sizes, materials, and styles that
2. Open-Spout Waterfall Faucets
A waterfall faucet is a modern style bathroom faucet that mimics the soothing and natural feel of a waterfall as it flows graciously into your sink. This simple switch can make your bathroom feel like a spa. Not only does this faucet type look nice but it can actually reduce your water bill since it uses less pressure behind the water flow.
3. Metallic Accents
Simple metallic accents can give your space a timeless chic and luxurious feel like your very own at-home spa. Here are some quick and simple ideas to add metallic touch: switch to gold-colored faucets, add a side table with metallic legs, add a golf-rimmed mirror, or switch to metallic bathrooms accessories (i.e. toothbrush holders, soap dispensers, etc.)
4. Unique Freestanding Bathtubs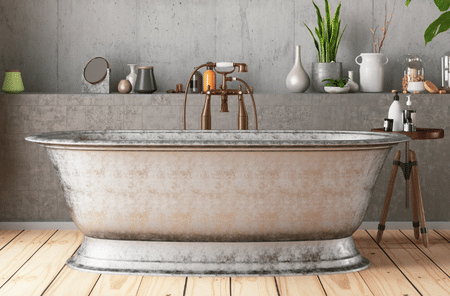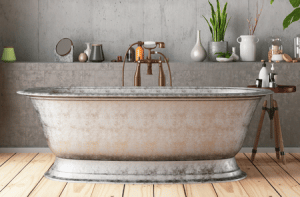 A unique freestanding bathtub can serve as one of your bathroom's centerpieces and give you an exclusive, at-home spa atmosphere. Every year designers are getting more creative with shapes and materials for freestanding tubs so there are even more possibilities than ever to get creative and curious about bathtub styles.
5. Wall Art & Art In General
From wall art to unique furniture and hardware to distinctive floor patterns – adding a splash of artistic elements will make your space feel picturesque and distinct. Go subtle or be brazen with your artistic additions – either way, make it all your own.
6. Natural Stone
A beautiful natural stone can set an elevated tone for your bathroom space. With many unique stone patterns, colors, and materials available, there are many possibilities to choose from to make your area feel comfortable and aesthetically pleasing with a kick of personality.
7. Frameless Seamless Glass Showers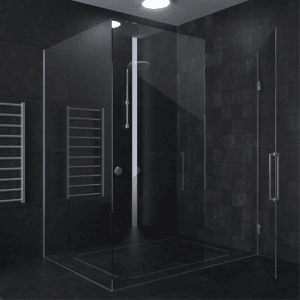 There are plenty of different types of showers to consider but if you're looking to elevate the feel of your bathroom, consider a seamless, frameless glass shower. It will give your bathroom an open, modern, and cohesive overall feel.
8. Black & White
The classic and timeless black and white color scheme is making a comeback this year. Go as bold or simple as you'd like and experiment with different contrasting black and white elements such as flooring, fixtures, tubs and showers, cabinetry, and more!
9. Textures
Break away from the basics and consider some texture in your bathroom space. Adding textural elements can provide warmth, personality, and style while creating a welcoming, sensory experience. Don't just go for any texture though, consider how its color and pattern fit into your bathroom schema.
10. Nature-Inspired Feel & Colors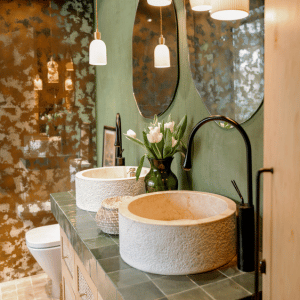 Greens, ivories, beiges, plants, wood textures, and natural materials – there are many ways to bring the feeling of nature into your bathroom space. A nature-inspired bathroom theme is extremely versatile and can be as bold or understated as you'd like with simple accents and accessories or even a complete & bold overhaul.
Consult Your Local Bathroom Remodeling Experts
If you're considering a bathroom renovation or remodel, our experts at JD Brunson are here to help. Big or small, we'll work with you to ensure your bathroom exceeds your expectations and becomes an at-home oasis. Contact us today for a free bathroom remodeling quote or to learn more.