Although taking a nice warm shower can be zen and relaxing, the process of designing one can feel the exact opposite. There are seemingly endless ways to customize a shower, from the design of the surround to the type and number of showerheads. Because there are so many options, it can be difficult to figure out which style of shower is best for your needs and budget. To help you design the spa-like shower of your dreams, here's a detailed overview of 17 different shower elements including types of shower enslosures, showerheads, door styles, and other shower features.
Types of Shower Enclosures
1. Prefabricated Shower Stall
One of the first design decisions you'll have to make is whether you want a prefabricated shower stall or a custom tiled surround. Prefabricated showers are usually made of acrylic or fiberglass and come in one piece or several sections that fit together.
Prefab shower stalls are more affordable than tiled showers and easier to install, so you may be able to do the work yourself if you're handy. Although prefab showers aren't as luxurious as tile surrounds, they're a great option if you're on a tight budget.
2. Tiled Shower Surround
Prefab stalls come in a limited range of styles and sizes, whereas tile showers give you more flexibility in your design. Tiled showers can be custom-built to fit any space, and you can handpick the color and material of the tiles to match your vision.
Tile showers are usually harder to clean and maintain due to grout lines. They're also more expensive than prefab stalls. However, if you're looking to create a spa-like atmosphere in your bathroom, it may be worth splurging on a custom tiled shower.
3. Shower-Tub Combo
If you want a shower and a freestanding tub but don't have space for both, consider installing a shower-tub combo instead. Like regular showers, shower-tub combos can be prefabricated or custom tiled for a more luxurious look.
4. Wet Room
Turning your whole bathroom into a wet room is a great option if you're short on space. Small shower enclosures can feel tight and claustrophobic. Installing a fully tiled wet room will give you extra space to move around and make your bathroom feel more open.
5. Corner Shower
Corner showers are another great space-saving option for small bathrooms. They come in several different shapes including rectangular, neo-angle, round, and square.
Types of Showerheads
6. Shower Tower
Shower towers are the epitome of luxury. They usually have rainfall and handheld showerheads plus multiple body jets that spray water at you from every direction. All of these features are housed in a sleek, modern panel you can mount directly to your shower wall.
7. Concealed Showerhead
If you're a fan of minimalist style, you may prefer the way concealed showerheads look. They're mounted flush to the ceiling to create a sleek, low profile look that blends in with the rest of your shower design.
8. Rainfall Showerhead
Rainfall showerheads are one of the most popular bathroom fixtures. Although rainfall showerheads can be mounted to the wall, consider installing one on your ceiling so the stream of water falls on your head. You'll feel like rain is pouring on you from above, creating a relaxing sensory experience that will help you unwind after a long day.
9. Smart Showerhead
Smart showerheads allow you to control your shower using a mobile app or voice assistant like Alexa for added convenience. You'll be able to turn on your shower and adjust the temperature settings and water pressure digitally so everything's ready to go before you hop in.
Smart showerheads also have features like LED lighting, built-in Bluetooth speakers, and eco-friendly settings including timed showers and water consumption monitoring. They're usually more expensive than regular showerheads, but are worth the extra cost if you want to create a fully connected smart bathroom.
10. Handheld Showerhead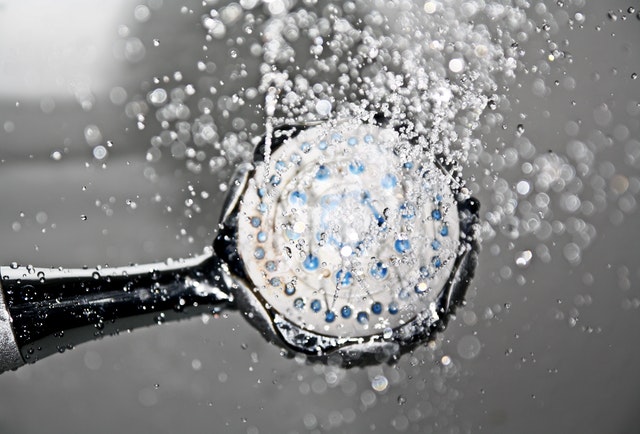 If you have pets or kids, a handheld showerhead is a must. Handheld showerheads have long, flexible hoses to provide a steady stream of water wherever you need it. Some handheld showerheads are designed to be used as your main showerhead, while others are secondary attachments.
Shower Door Styles
11. Sliding Glass Door
Sliding glass doors are a great space-saving solution for small bathrooms because they don't open outward. You can choose a sliding door without a metal frame for a seamless, modern look, or go with a cheaper framed option if you're on a budget.
12. Doorless Shower
Believe it or not, you don't have to include a door in your shower design! Many walk-in showers have a partial glass divider to keep water from splashing everywhere instead of a traditional shower door. Installing an open, doorless shower will make your bathroom feel more spacious and airy.
13. Hinged Glass Door
Hinged shower doors swing open and closed on hinges. Depending on where the hinges are attached, hinged doors may open both outward and inward or outward only. Like sliding shower doors, hinged doors come in framed and frameless styles.
14. Tinted, Textured, or Gridscape Door
To add visual interest to your shower door, you can choose tinted or textured glass instead of clear panels. Gridscape doors that have black grid lines on the outside of the glass are also popular.
Shower Features
15. Built-In Bench
Installing a built-in bench will add a touch of comfort to your shower and give you a place to sit down and relax. Shower benches make it easier to perform routine shower tasks like shaving your legs and provide extra storage for your hair care products. You can even run heating cable under the tile to warm the bench so you stay nice and toasty during your shower.
16. Grab Bars
Adding grab bars to your shower is a great way to make it safer and more accessible. Grab bars have come a long way in terms of design, so you'll be able to find a style and finish that matches the rest of your bathroom.
17. Steam Generator
Including a steam generator in your shower design will make you feel like you have a sauna right in your bathroom! Steam has a variety of health benefits and can help reduce stress, congestion, and muscle and joint pain.
Build Your Dream Shower With Help From The Bathroom Remodeling Experts
Still can't decide which features to include in your new shower? Let us help you design and build the shower of your dreams! We have been remodeling bathrooms in the Dallas area for over 50 years and have built so many of our awesome community members the shower of their dreams. Contact us today to discuss your project and get your free quote.