We believe that the kitchen is the heart of the home – a place to enjoy cooking and relaxing with family and friends. But, outdated or poorly functioning appliances – like a refrigerator – can make cooking more of a hassle than an enjoyment.
Whether you are considering a kitchen renovation or simply need a new fridge, consider upgrading with these high-end refrigerators from Wayfair. Even if you don't get a fridge on this list, you may figure out important features you need and want.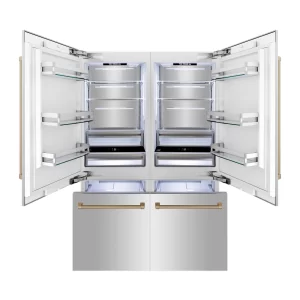 Current price: $12,779.96
Original price: $14,199.95
With a 4.9 rating, there seems to be a lot to love about this fridge. This modern top-of-the-line refrigerator by ZLINE has all the basics you expect along with premium features you will adore.
This fridge has RapidChill mode which saves you time by quickly chilling your food, useful settings like vacation mode & eco mode, and a CrispControl Drawer that helps your fruits and veggies stay fresh longer. And with a large capacity of 32.2 cu ft., you can store all your necessities and then some in its spacious interior.
This stainless steel refrigerator also boasts premium looks and is available with an accented finish of champagne bronze, gold, or matte black.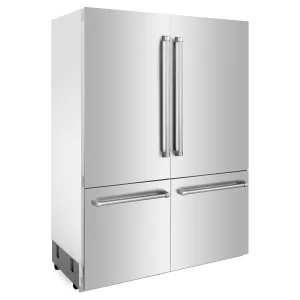 Current price: $12,149.96
Original price: $13,499.95
This next premium refrigerator by ZLINE is identical to the one above minus the exclusive accented finish options. In addition to its complete stainless steel finish, it has french doors, a spacious interior, RapidChill Mode, CrispControl Drawer, and basically everything else the fridge above offered.
This Energy Star Refrigerator also boasts a 4.9 star rating so if you can do without an accented bronze, gold, or matte black finish, this may be the refrigerator your kitchen needs.
3. Column 24″ Counter Depth 12.6 cu. ft. Refrigerator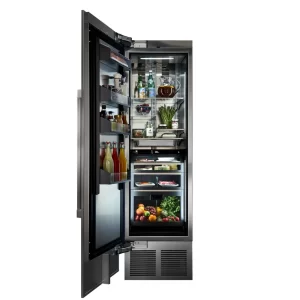 Price: $10,999.00
This elevated refrigerator would be a great addition to any high-end kitchen and serious home chef.
This refrigerator by Perlick boasts advanced quality and performance with its four separate zones of precision cooling for the main compartment, deli drawer, fish & meat drawer and top-out produce bin which is specifically designed for each food group to last longer. Its dual chamber air filtration helps with its electronically monitored humidity control, which also keeps your food fresher than other refrigerators. It's also equipped with frameless spill-proof shelving, a removable refrigeration deck, and touchscreen control panels. Not only that, it's eco-friendly and energy efficient.
There are a couple of drawbacks though –  this fridge does not have a freezer section and the fridge space is significantly less than previous refrigerators listed so take these into consideration.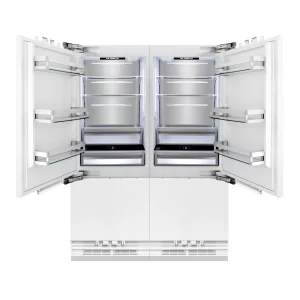 Current price: $10,349.96
Original price: $11,499.95
If the first two ZLINE refrigerators piqued your interest, you'll be happy to know this refrigerator has virtually the same awesome internal features like RapidChill Mode, digital chill control, spacious 32.2ft interior, and more. Just like its predecessors, this fridge also boasts a solid 4.9 star rating.
The key difference between this refrigerator and the first 2 from ZLINE lies in its exterior – its basic white exterior is made to be panel ready meaning you can customize the face to match surrounding cabinetry to create a consistent, streamlined look in the kitchen. Talk about modern luxury.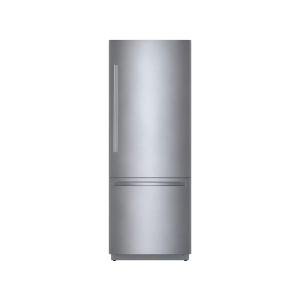 Current price: $8,999.00
Original price: $9,899.00
Bring your kitchen into the new tech age with this single-door, wifi-enabled, Alexa voice-controlled refrigerator that's made for a modern kitchen!
It's designed to be built right into your wall to give your kitchen a modern sleek look without the bulkiness of a typical fridge. Along with a reversible door and slim width, this refrigerator is versatile to fit into almost any kitchen schema.
The multi airflow cooling systems evenly circulate fresh, cool air to maintain consistent temperatures to help your food stay fresher for longer and even protects frozen foods with its SuperFreezing function.
Hire The Dallas Kitchen Remodeling Experts
After you pick out your dream refrigerator for your kitchen, you may be considering a kitchen renovation or remodel if you're not already. Attempting an advanced kitchen remodel could lead to some severe problems short and long-term if you're not professionally trained or experienced.
This is why it's best to leave kitchen remodels and renovations to Dallas' top kitchen remodeling experts at Brunson Construction. We have nearly 55 years of Dallas remodeling experience and are proud to be one of the top remodeling companies in the Dallas area. Contact us today for a free estimate for your kitchen or home remodel.
Editor's note: Prices reflected are accurate as of January 3, 2023 and may be subject to change or availability. 
You may also be interested in reading: