Visit your favorite interior design website and you'll end up thinking that everyone has a huge kitchen and bathroom with big double sinks. The reality is quite different. Homes have been shrinking the last couple of years and living spaces have become smaller than ever. If you're looking for a sink that can fit in a smaller space for your next bathroom remodel or kitchen remodel, draw inspiration from these 15 designs.
1. Roca's Sink and Toilet Combo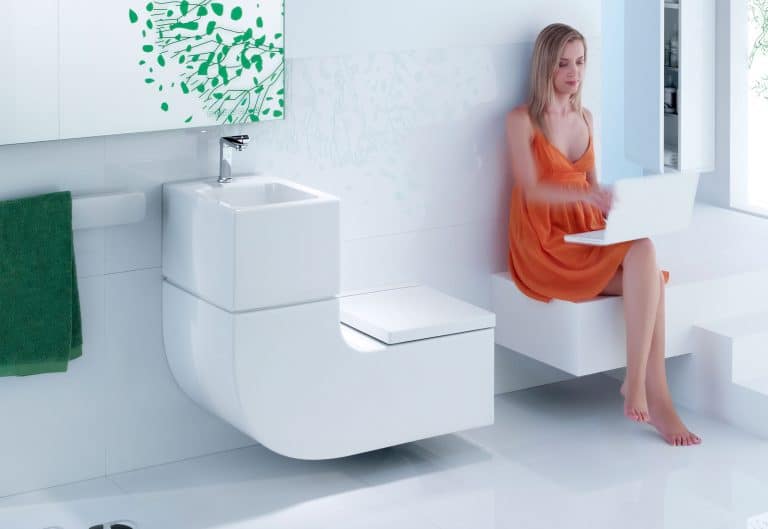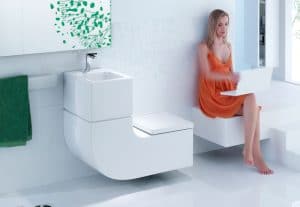 Roca has a reputation for making ordinary things extraordinary. This toilet and sink combination is an artistic centerpiece. not only is it a saves space, but it also makes conventional bathroom fixtures elegant.
2. Philips Chopping Board Sink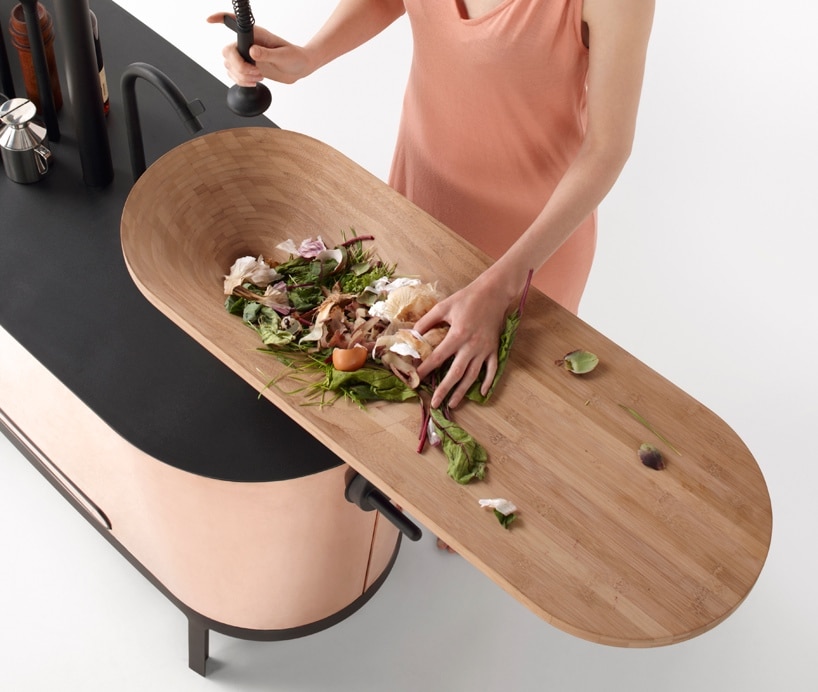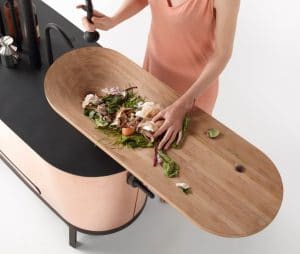 This eco-friendly microbial sink also serves as a biodigester and breaks down organic waste. Built into a kitchen island with a chopping board, the unit allows you to make food easily in your kitchen. It will infuse your kitchen with a bit of earthly charm and create a luxurious, unique focal point.
3. Philip Watts' Spoon Sink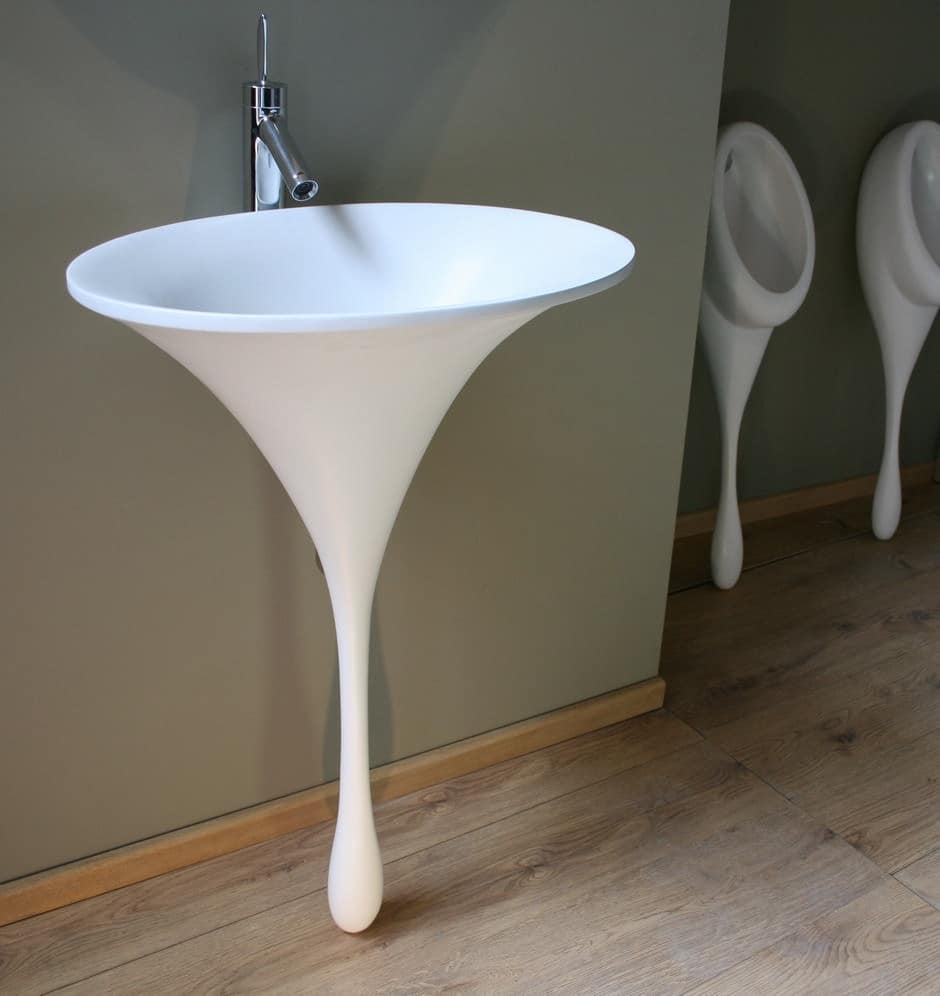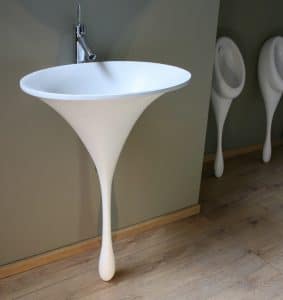 A sister product to the company's award-winning spoon urinal, it mimics the form of a teardrop. You can install a monobloc mixer tap or a wall mounted tap above the sink. It allows you to express your love for art and to be bold by thinking outside the box.
4. "Invisible" Bathroom by Matteo Thun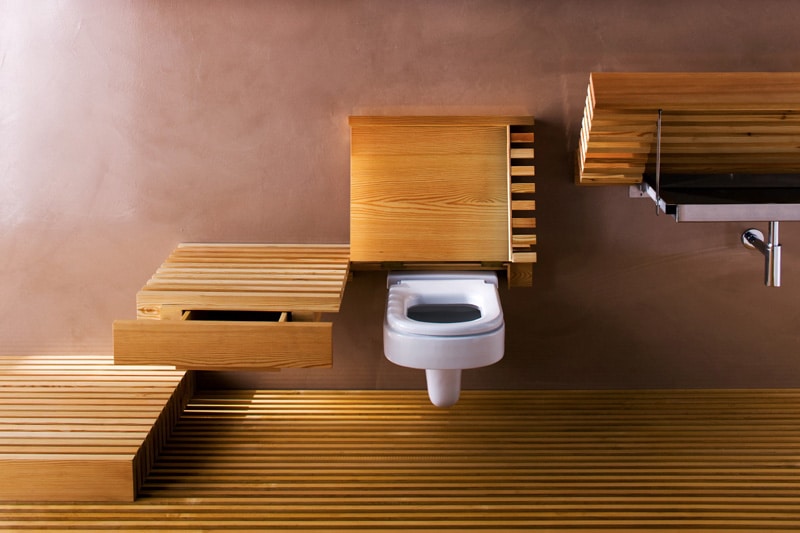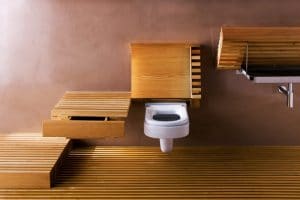 Matteo Thun, has designed the "Invisible" Bathroom. It has a sink, shower, and toilet that magically disappears. The bathroom fixtures are disguised behind sleek wooden slats that resemble the shelves in a beautiful sauna. When you want to use any of the fixtures, you simply lift up the wooden slats.
This eco-friendly sink only weighs 45 lbs and features a bamboo surface that is designed to protect the organic material underneath. You can't use abrasive agents or steel wool to clean it. Lenova recommends that you clean it with mild dishwashing soap and dry it with a soft cloth afterwards. The company sells both single bowl and double bowl models.
5. Silence Wall Mounted Sink By Antonio Lupi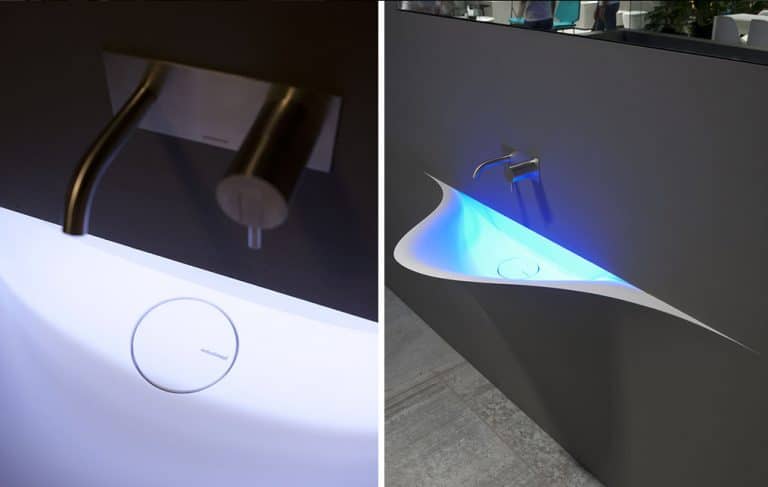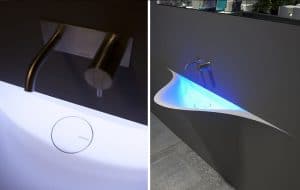 If space is an issue in your bathroom, a wall-mounted sink is a great option. It appears to float above the ground and is perfect for those who do not want vanities which can clutter a small room. This eye-catching bathroom sink has a futuristic shape that seems to fade seamlessly into the background. It's built-in light beautifully complements its design.
6. Invisible Sink by Victor Vasilev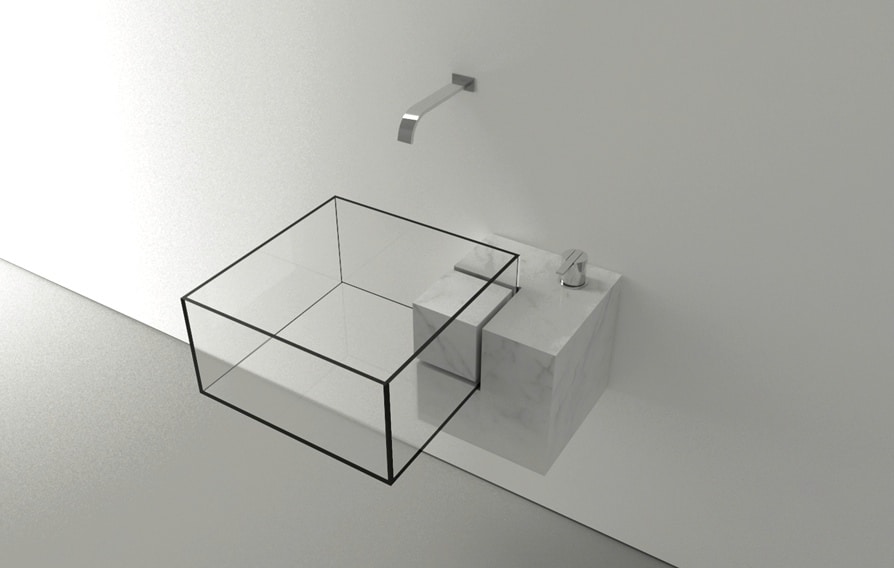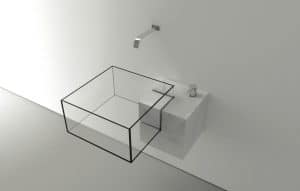 Bulgarian designer Victor Vasilev created the aptly-named Kub Basin which fuses intelligent and minimalist design. The sink features a transparent glass frame and is supported by a marble stanchion. It appears to hang in the air and disposes dirty water into the understated mount.
7. Sink Tub Combo by Desnahemisfera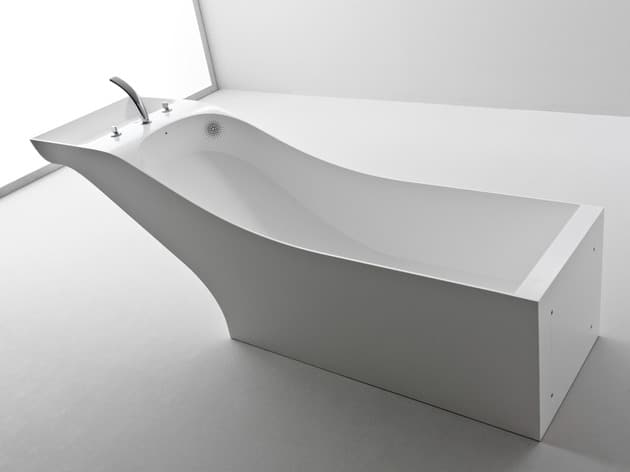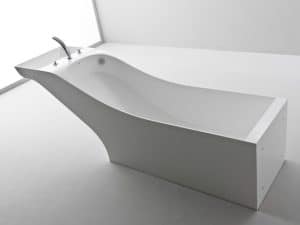 If you don't have enough space for a bathtub and a vanity, simply get the Symbiosis sink tub combo. Created by Desnahemisfera, the sink merges into the tub's backrest. Both the sink and tub use the same drain, but there are different temperature and pressure controls for each. Symbiosis also features built-in speakers for an iPhone or another device.
8. Lando Convivio's Modular Kitchen with Angled Sink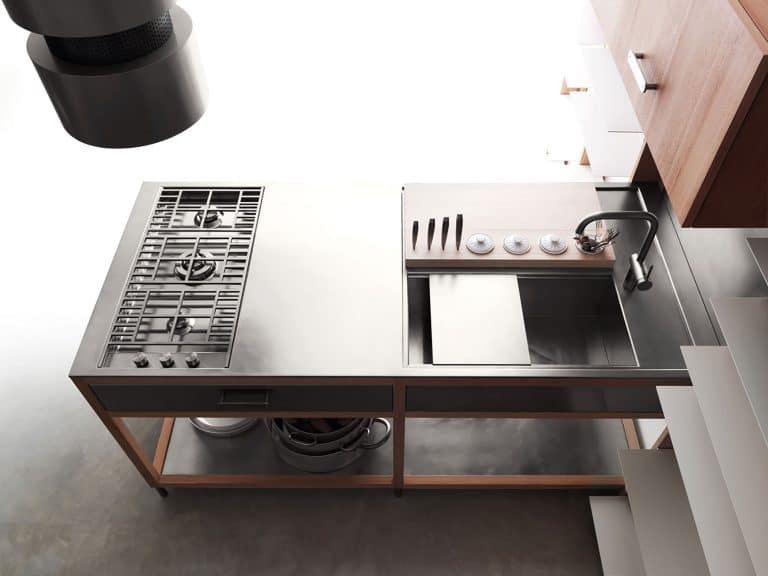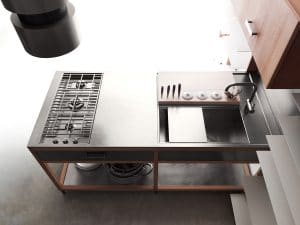 Created by Enzo Berti for Lando, Convivio is a collection of modular Italian kitchens that comprise sinks, worktops, stoves, storage units, and much more. While the idea of modular kitchens hasn't caught on in the United States, it is a genius European concept. A modular kitchen is awesome because you can take it with you when you move house.
9. Sink and Washing Machine Combo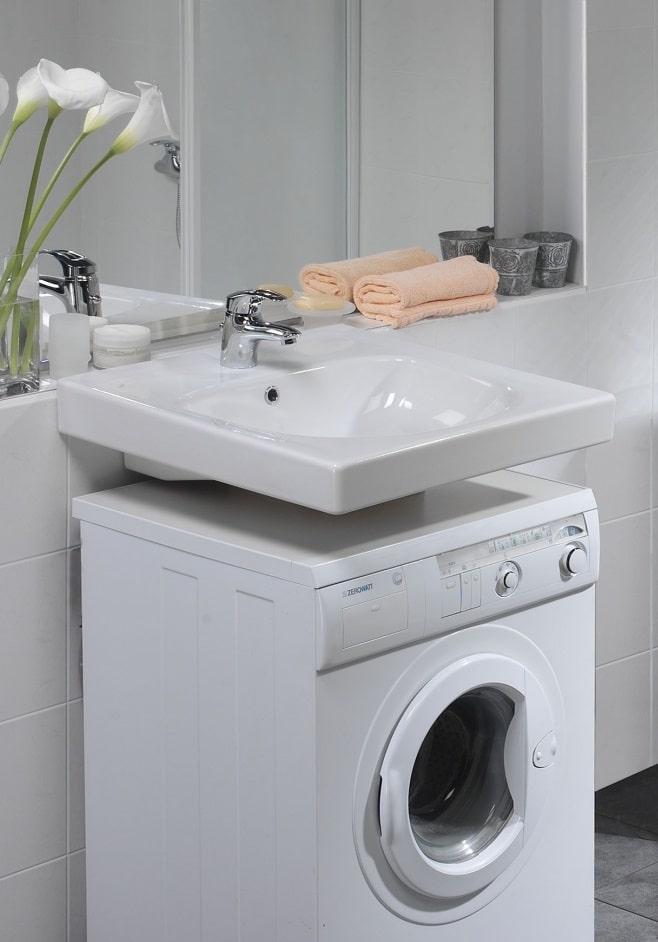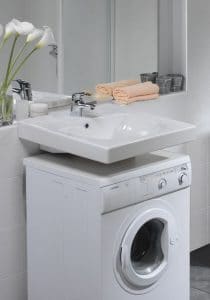 If your house is really small and the washing machine can only fit in the bathroom, worry not. This space-saving sink has been designed to make the most of space in a small bathroom and allows the installation of a standard washing machine beneath it. Once installed, the washing machine will not prevent access to the rest of the bathroom facilities. The sink's drain is pushed to the back corner, creating space underneath.
10.Duality Minimal Kitchen by Phillipe Starck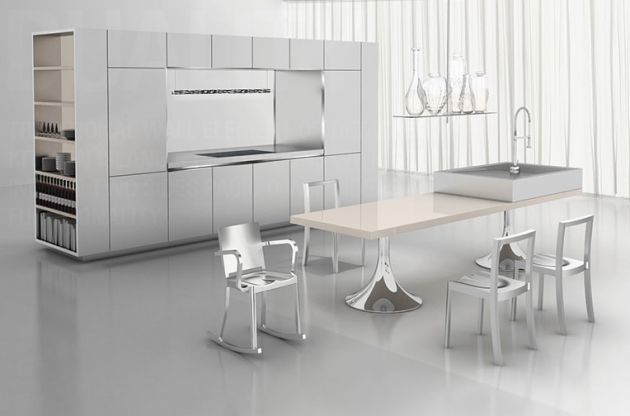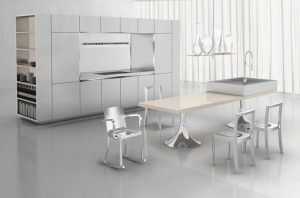 The idea behind Duality Minimal was to create a beautiful, compact kitchen that would fit into small spaces. Combining cooking and living, function and design, the kitchen has a sink, a small countertop, and storage features. The unit oozes an atmosphere of coziness and there's interplay between the two sections for work and storage.
11. Floating Vanity with Sink by Cote Maison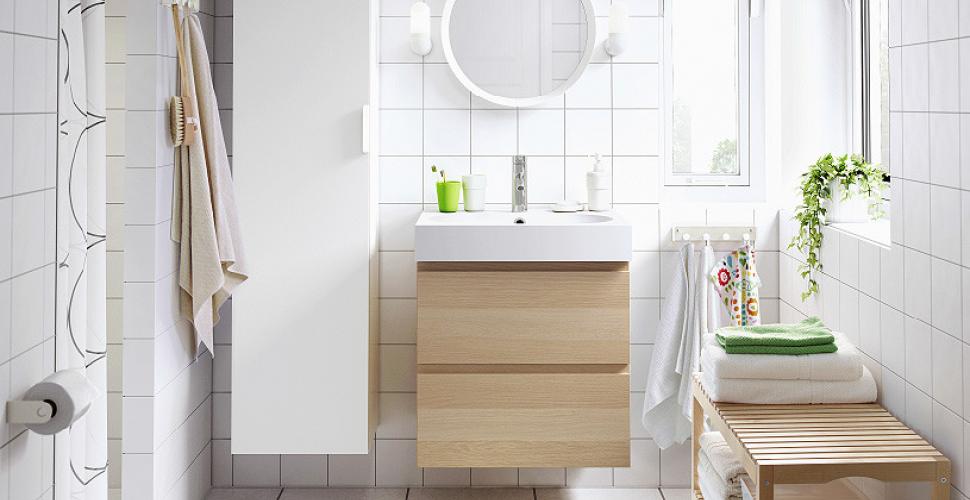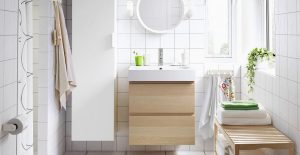 The great thing about floating vanities is that they offer the same storage as freestanding vanities. However, they take up less space because they are just as small as the sinks. The floating design makes the vanity look extra light while the two cabinets underneath provide ample storage. You can install the vanity right next to the bathtub to save space.
12. EBB Bathroom Sink, Shower, and Tub Combo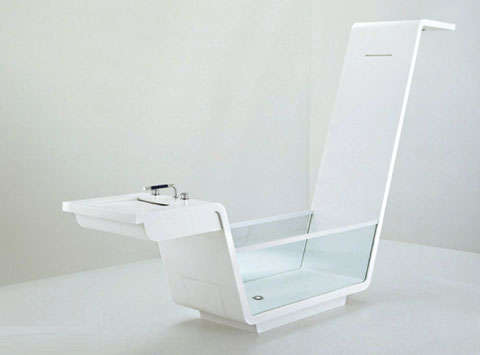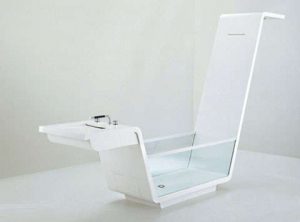 The EBB bathroom concept with a sink and a shower was the first one presented to the public by the UsTogether design team and LG Chem. It received many positive reviews, motivating the team to create the EBB sink, shower, and tub combo. The innovative unit boasts a stunning fusion of high-end ultramodern design with functionality. It is made of LG HI-MACS, a natural acrylic stone material and showcases a striking sculptural design.
13. Corner Bathroom Sink by Signature Hardware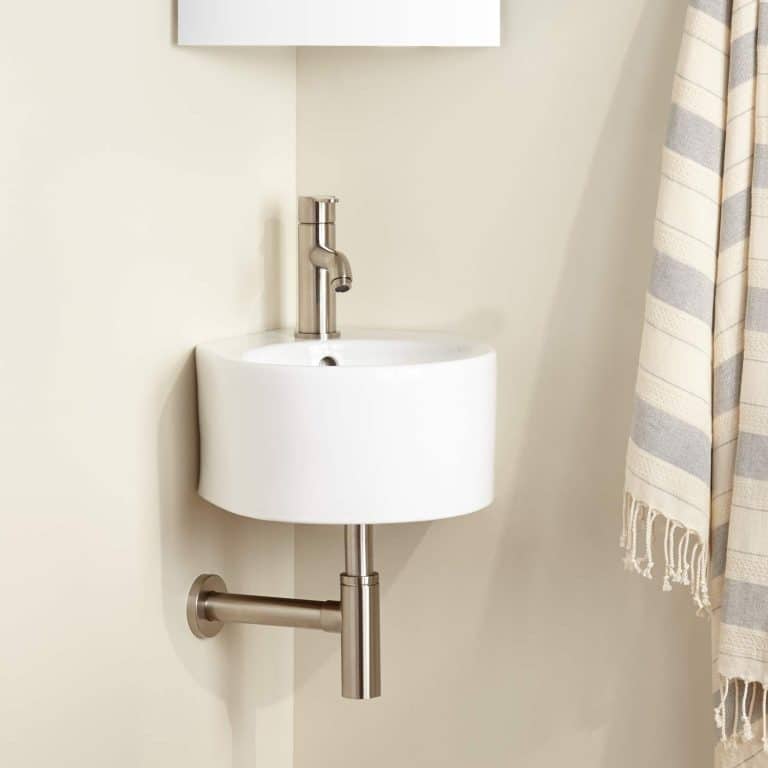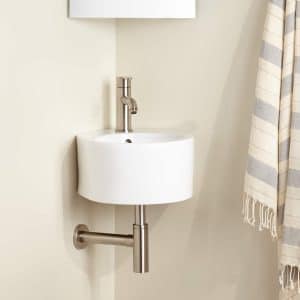 Whether you are updating your bathroom or adding a new sink to the space, a corner sink is worth considering if your bathroom is small. It fits nicely in the corner and works well in small bathrooms that lack the space for a full sink and vanity. This space-saving corner sink that's designed by Signature Hardware only occupies 8¾ inches on each wall.
This kitchen addresses the future of everyday objects built through new technologies. Michael Harboun designed this prospective kitchen concept comprising a sink and a faucet that will be created using claytronics. Both the sink and faucet can move across the surface of a wall. To turn the faucet on and off, you simply touch its tip. The faucet has a conical shape and a small circle at the end that differentiates it from the sink.
14. The Living Kitchen by Michael Harboun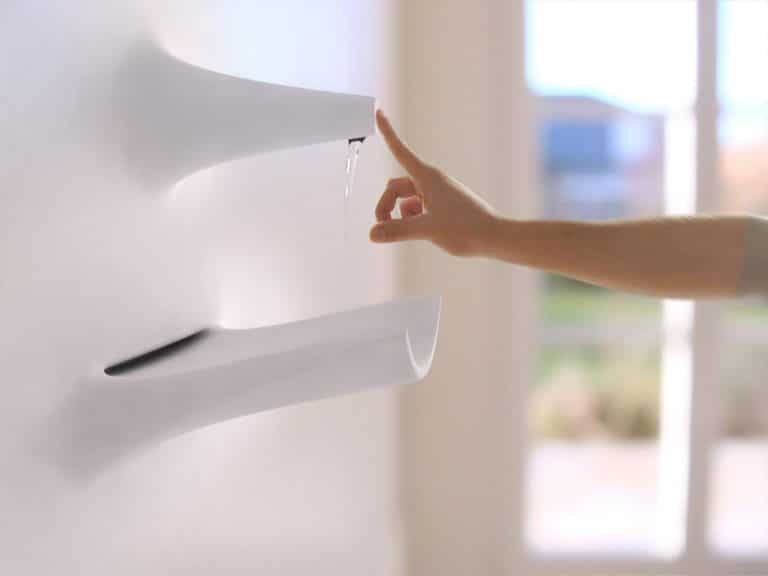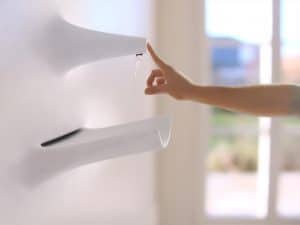 In the world of contemporary interiors, the name Boffi is known for excellence and innovation. This sink is a true reflection of the company's love for quality. While it does not hold too many dishes at a go, that's actually a good thing if you like to keep your kitchen spotless. The gorgeous faucet and almost-invisible drain make it a must-have in every modern kitchen.
15. Boffi Kitchen Sink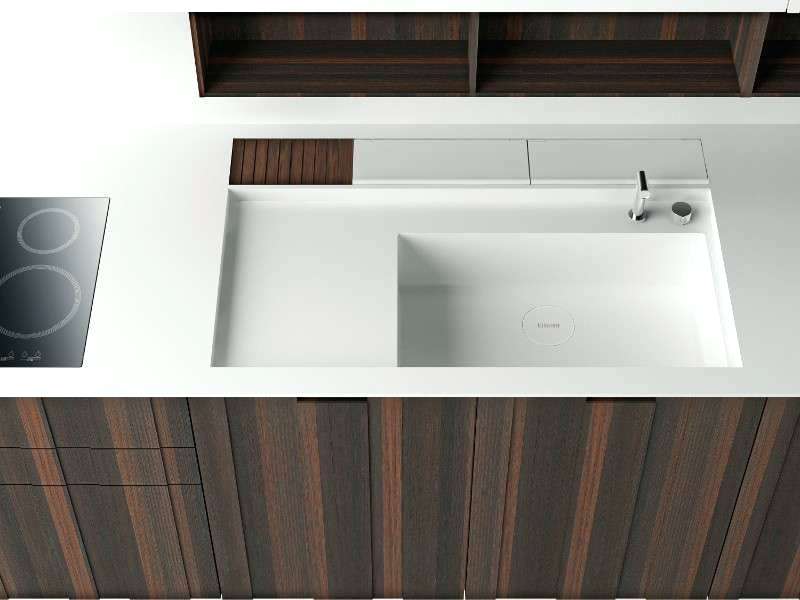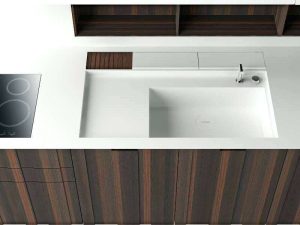 In the world of contemporary interiors, the name Boffi is known for excellence and innovation. This sink is a true reflection of the company's love for quality. While it does not hold too many dishes at a go, that's actually a good thing if you like to keep your kitchen spotless. The gorgeous faucet and almost-invisible drain make it a must-have in every modern kitchen.
16. Smart Tuler Kitchen by Offmat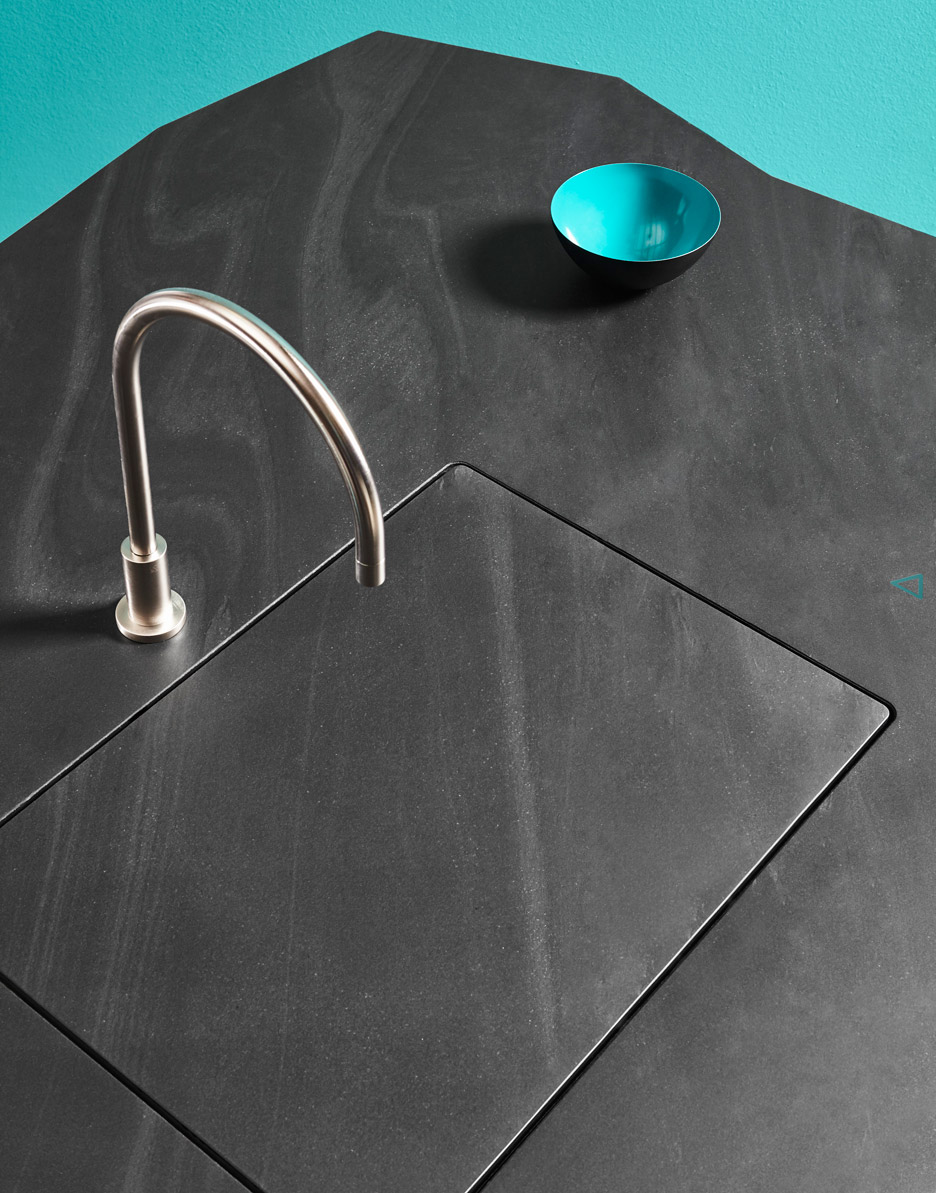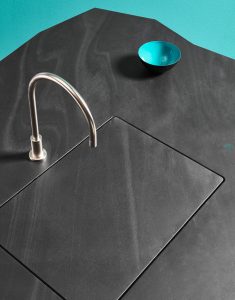 Created by Italian design studio Offmat, Tuler is a smart kitchen countertop that incorporates various interactive functions. When you wave your hand over the sink, it appears out of the surface. When it's not in use, the sink's base rises to the top and seems like part of the countertop. There's a motion sensor embedded under the stone's surface that is activated when you wave your hand over it. The kitchen countertop is made from Quartz composite.
Bathroom and kitchen sinks have transformative power. They can enhance a space and help you to achieve your design goals. Whether you want a space-saving unit or a wall mounted one, we hope this post will help you choose the right sink for your home.