Because of the coronavirus pandemic, many bars and restaurants are closed for the foreseeable future. But luckily, you can recreate the cocktails and ambiance of your favorite local spots by setting up a bar at home. These fifteen stylish home bar ideas will give you all the inspiration you need to create a beautiful entertaining space for your family to enjoy while you're stuck inside. 
1. Sleek & Modern
This luxurious waterfall edge bar is the perfect place to sit down and enjoy a drink. The white marble adds a crisp, clean look to the room and contrasts nicely with the dark blue cabinets.
2.
Bright Mediterranean-Inspired
Turn your wet bar into a focal point by installing a fun patterned backsplash like this Mediterranean-inspired white and gray tile. 
3. Sweet Escape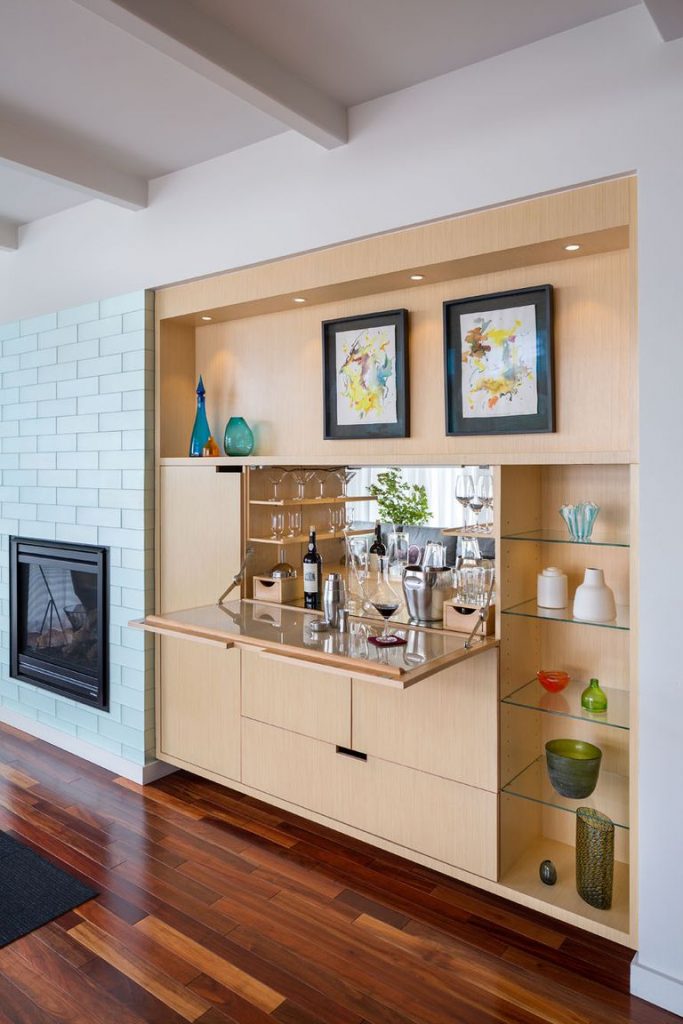 If you don't want your liquor out in the open, consider concealing it in a custom wood cabinet like the one shown above. 
4. Under the Stairs Elegance
Why waste the space under your stairs when you can turn it into a stylish and functional wine bar? To make the area look more inviting, use bright paint colors and install lighting on your shelves to illuminate your favorite stemware. 
5. Blue Living Room Bar
Don't be afraid to play around with color. Buying colorful accessories or painting your cabinets a bold shade of blue can take your bar to the next level. 
6. The Barn
The live edge wood, metal chairs, and industrial light fixtures give this bar a rustic, cozy vibe. The chalkboard wall is another nice touch that adds charm and gives you a place to write your at-home drink specials. 
7. Retro Arcade Basement Bar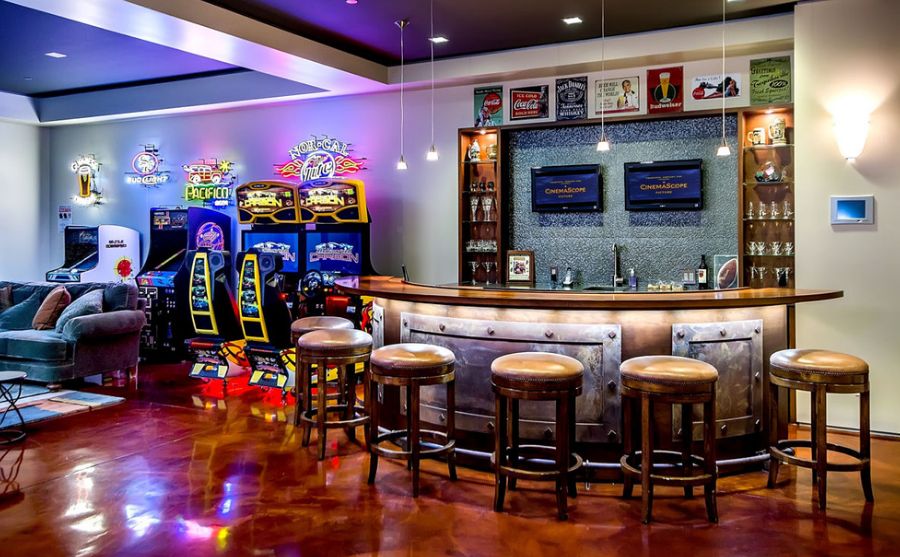 Adding a few arcade games and televisions to your basement bar will turn it into a gathering place your family will never want to leave. 
8. Beachy Keen
The shiplap walls, butcher block countertops, and rustic chic accessories give this bar a beachy vibe that's perfect for a lakehouse. 
9. Closet Bar
Don't have much space in your house? Consider converting one of your coat or utility closets into a bar. Using bright paint colors and patterned wallpaper will help make the space pop even though it's small. 
10. Breakfast & Bar Nook
Don't forget to incorporate a seating area like this banquette into your bar design. Otherwise, you won't have anywhere to relax and enjoy the drinks you've worked so hard on! 
11. Stone Style
The stone bar, coffered ceilings, and dark wood wainscotting give this basement hangout a luxurious, sophisticated vibe. 
12. Garden Bar
Who says bars have to be inside? This functional outdoor bar has open shelving to display your wine collection and a fridge to keep your bottles ice cold until you're ready to drink them. 
13. Bleached Wood + Mirror
Putting a mirror behind your bar will make it look bigger and add a welcome touch of elegance and glamor. 
14. Party Lights
Installing lights under your bar and in your open shelving can help set the mood and make you feel like you're in your favorite restaurant or nightclub. 
15. Barrel Bar
Adding unique details to your bar can help personalize it and make it stand out. The Jack Daniel's barrel sink and gear-shaped mirror turn this otherwise run-of-the-mill bar into something special. 
If you're interested in turning an underutilized space in your home into a stunning bar your family can enjoy now and for years to come, now is the best done to get it done. Give us a call to get a free quote!